Celebrating Our Graduates: Hilda-Matilda Idegwu
At 16, Hilda-Matilda Idegwu came to the Munk School's Global Ideas Institute (GII) aspiring to change the world — no matter how illogical of a goal it seemed to others. "I had a mentor at the time, and she asked me what I wanted to be and how I would accomplish that. I told her how I wanted to change the world and she kind of laughed at me," says Idegwu. "As a teenager who was really optimistic about everything at the time, that really hurt. But it was a wake-up call for me. It helped me understand how society worked and how I wanted to create change. It was the first time that I ever thought about public policy and advocacy." 
Idegwu, who will graduate from the Master of Public Policy (MPP) program on June 14, has always been a champion for her community.  "I moved to Canada from the UK about 11 years ago. I arrived with my family and grew up in a priority neighbourhood in Toronto," she says. "I cared about people in my communities who were either poor or marginalized, and I think it really inspired me to look for a job where I could always help."  
This desire to help is what led Idegwu, who studied international development studies at York University on a full scholarship, to start the Diaspora Learning Centre (DLC) shortly after receiving her bachelor's degree. The social enterprise provides affordable tutoring and mentorship to Black children and youth in the diaspora. "The DLC is based off my experiences as a young Black child trying to succeed within an education system that saw people who look like me as underachievers," says Idegwu. "Once I was able to start my social enterprise, I really got the confidence to apply to the Munk School."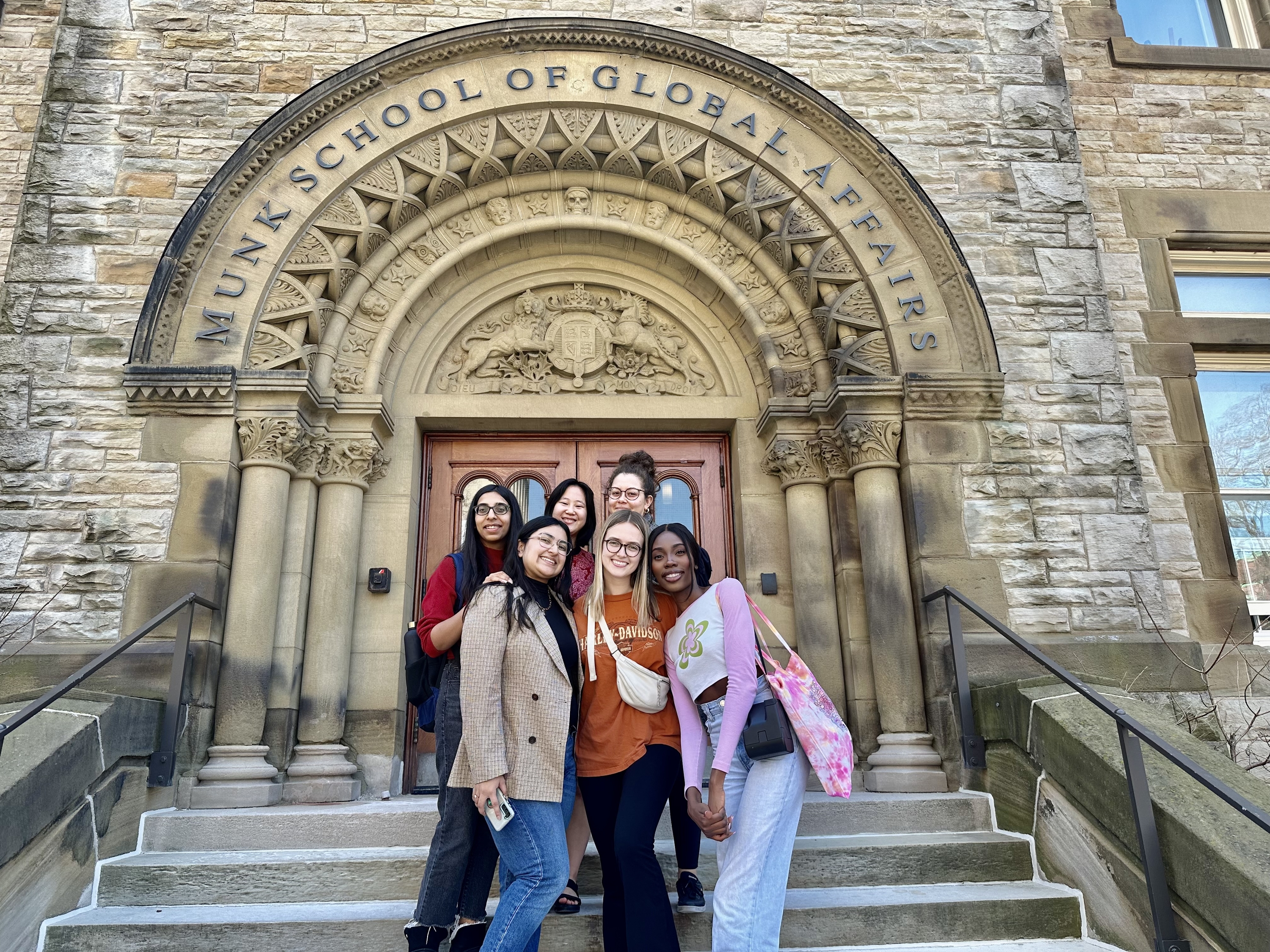 In a full-circle moment, Idegwu mentored in the GII program while she was an MPP student. She also immersed herself in the full Munk School experience in other ways, including becoming president of the Munk School Black Students Association, handling internal relations and operations for the Public Good Initiative, contributing to the Public Policy and Governance Review, and participating in the Munk School's Anti-Racism Working Group. "All of this allowed me to get back into work that affected the communities that I either came from or cared about, but through a policy lens," says Idegwu. Interning with the Cabinet Office Cabinet Office (Strategy and Innovation Branch) at the Ontario Public Service (OPS) also helped her to put her policy learnings into action.   
"I feel like the perspectives that I gained from working on the ground informed the types of ideas I had while at the Munk School," says Idegwu. "No matter what school project I was working on, I always thought about how the policies I looked at would affect people who don't usually have a say. I thought about how policy can help people or do the absolute opposite. And in class, I became more realistic about how to bring about change. I learned how to use evidence to form holistic, long-lasting policy solutions." 
 Now, still fuelled by her teenage ambitions to change the world and armed with knowledge from her MPP courses on how to get there, Idgewu is on to her next endeavour: contributing at a federal level as part of Canada's Recruitment of Policy Leaders (RPL) program. A highly competitive campaign with a 1.3% acceptance rate, the RPL aims to develop a pool of highly-skilled people from a variety of policy-related backgrounds, who are ready to be hired into mid- to senior-level roles within the federal public service. Thousands apply to the RPL each year and only about 20 people — typically those with a PhD — are accepted. 
"I heard about the RPL program through the Munk School's Career Services team. They brought in five heads of different federal recruitment programs. The representative for the RPL mentioned how competitive it was, but I figured if I could get into the Munk School, why not try applying to this? The opportunities I had at the Munk School gave me the confidence to try things that seem unattainable," says Idegwu. "The whole process was long — it took six months! With every stage I passed, I said 'You know what? If ends here, that's okay. I did my best.' I didn't think I would make it all the way to the end, but I did. And I'm happy!"
Idegwu's acceptance marks the first time the MPP program has placed a grad in the RPL program so soon after completing the degree. Now that she is in the talent pool, she will be matched with a mentor (an RPL alum), and they will work together to find work that speaks to Idegwu's passions. "I'm hoping to work in a central agency, rather than a particular social policy area" she says. "I want to get to the core of how everything works. Working somewhere that has more reach and impact on how other departments function ends up trickling down into the lives of many people." 
As her fellow grads step into their careers, Idegwu hopes that they, too, will keep the broader impact of their work in mind. "As much as we want to use all of our technical knowledge and make sure our work is rigorous and evidence-based, it's important to remember that we do end up changing many lives," she says. "We have to remember to serve people with all we have, and that what we have to offer is so valuable."   
And as for Idegwu's 16-year-old self, who had mighty ambitions but doubted her place in the world? The MPP graduate would say this to that enterprising teen: "Everything works out and you are where you belong."