Learning the ropes on the international stage: MGA and MPP students intern at the Embassy of Canada to Spain
Catherine Despatie and Karina Velazquez-Lara arrived at the Munk School in the fall of 2021, part of a cohort of students eager to embark on their journey toward becoming tomorrow's change-makers. At the time, neither imagined that their respective internship placements would put them squarely in the middle of a multilateral summit — or rubbing elbows with Prime Minister Justin Trudeau and his inner circle.
Hoping for international experience, Despatie, a Master of Global Affairs (MGA) student, and Velazquez-Lara, a Master of Public Policy (MPP) student, both sought internships at the Embassy of Canada in Spain. "I almost did not apply," says Despatie. "I was worried that my Spanish language abilities were not strong enough…looking back now, I am so glad I went for it."
Their placements had already begun when the 2022 NATO Summit in Madrid captivated the world's attention. Capitalizing on the learning opportunities of a rare and historic event, the Embassy gave both Despatie and Velazquez-Lara a chance to work behind the scenes.
Despatie, who had been posted to the Foreign Policy and Diplomacy Service, was given responsibility for writing media reports, briefing notes, and other background materials, which were distributed to the Prime Minister's Office, the Minister of Foreign Affairs' office and Global Affairs Canada Headquarters in advance of the multilateral. "It was an entirely surreal experience," says Despatie, "I am so proud to have been able to do my part in contributing to it."
Beyond the thrill of participating in the NATO meeting, Velazquez-Lara also highlighted initiatives specific to Canada's Trade Commissioner Service, where her regular duties were more client-facing. She engaged with Canadian companies entering the Spanish market and Spanish companies that wanted to work with Canadian companies. "I learned much more than I could have ever anticipated about markets in Canada and Spain, especially aerospace and cleantech."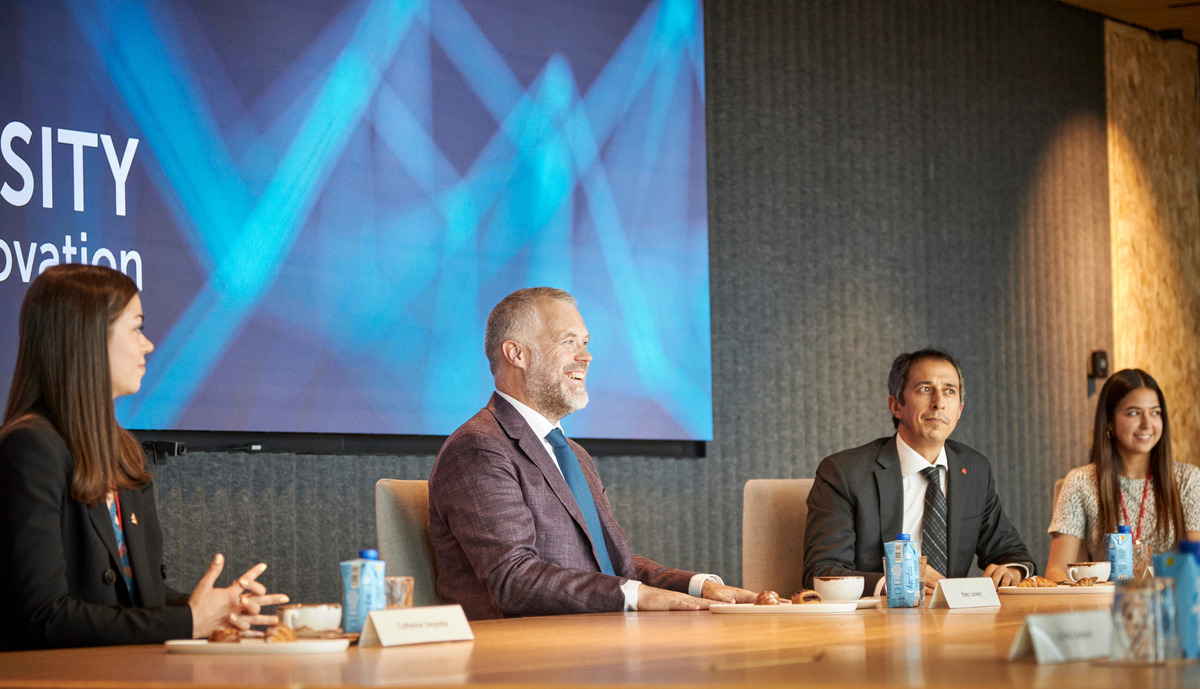 While Despatie and Velazquez-Lara were participating in the NATO Summit, Munk School Director Peter Loewen was also in Madrid to sign a strategic partnership agreement with IE University's School of Global and Public Affairs. Among the activities the two institutions plan to develop is a dual master's degree program with a focus on the areas of international relations and public policy. Prime Minister Trudeau and Spanish Prime Minister Pedro Sanchez endorsed the agreement through a joint statement.
The MGA and MPP internships allow students to develop their skills in a wide range of real-world contexts. During the summer between their first- and second years, students fulfill placements in government, national and international organizations, and at top-tier corporations. Interns gain opportunities to build their professional networks and broaden their understanding of the many ways to apply the knowledge they gain in class.
Working in the office of Canada's senior diplomat in Madrid also gave Despatie and Velazquez-Lara the chance to engage in diplomatic initiatives in a multi-lingual city. Velazquez-Lara, who speaks Spanish as her first language, enjoyed the challenge. "The surprising aspect was that everyone spoke different languages interchangeably," she remarked. "For example, someone would ask me a question in French and I would reply in Spanish or someone would email me in English and I would reply in French. The constant switching between the three languages kept me on my toes all summer."
A 2020 study in Future Business Journal pointed to the marquee value for internship programs in linking classroom knowledge to workplace reality and 'experimental experience'. When they accepted their internship offers, Despatie wasn't quite sure what to expect about day-to-day work at a Permanent Mission.  "I came into this internship with very limited knowledge of the workings of embassies and of the diplomatic world more generally." She credits a willingness to step outside her comfort zone as one of her key learnings.
"I now feel that I have gained a deep understanding into what it could be like to pursue a career in the Foreign Service"
"Internships are what you make of them," Velazquez-Lara added. "I would advise future interns to ask questions, network, get involved, and be a team player. All internships that you have access to through the Munk School will give you great work experience but building on to that for your career —that is driven by you."